If you're a high school student, it's never too early to think about your next steps after graduation. What do you want to achieve, and what is the best path to get you closer to your goals?
If you have a passion for cooking or baking, you may be looking at a career in the culinary arts…which makes culinary school worth considering.
Vocational training can look very different from the "standard" four-year college, so students often have a lot of questions. We've put together a helpful guide with all the facts high school students should know about culinary school before they enroll.
Let's get started!
Are You Eligible for Culinary School?
Different schools will have slightly different eligibility requirements. At Auguste Escoffier School of Culinary Arts, all incoming students must meet the following criteria in order to be admitted:
Be at least 16 years old (if under 18 years old, must also have parental permission)
Have a high school diploma, GED, or international equivalent
Complete an application and pay an application fee. (Fee may be waived in some circumstances.)
Submit an enrollment agreement and Family Educational Rights and Privacy Act (FERPA) Release form
Complete an admissions interview
The final three tasks are completed as part of your application process. So as long as you're 16 or older and have a high school diploma or equivalent, you're eligible to apply!
Make Accreditation a Priority
No matter which program you decide to attend, you'll want to look for accreditation. When an institution is accredited, it has been assessed and verified to meet certain minimum standards. It has the resources to deliver the education it promises. Also, students attending an accredited school are eligible for federal financial aid if they apply and qualify.
Auguste Escoffier School of Culinary Arts in Boulder, Colorado is nationally accredited by the Accrediting Council for Continuing Education and Training (ACCET). It is also approved by the Colorado Department of Higher Education to participate in the National Council for State Authorization Reciprocity Agreements for its distance-learning, i.e. online programs.
The Austin, Texas campus is accredited by the Commission of the Council on Occupational Studies. It's also authorized as an Associate of Applied Science degree-granting institution through the Texas Higher Education Coordinating Board.
Look for the Program That Serves Your Goals
Culinary school, just like any other post-secondary education, is an investment in your future. So high school students should start by defining their career and life goals. Then, you can start exploring which education options will get you closer to those goals.
Degrees vs. Diplomas: Which is Right For You?
What's the difference between a diploma and a degree? Diplomas programs provide a foundational level of coursework and skills training. A degree program includes additional academic courses and has a longer externship requirement. Diploma programs are often more affordable than degrees and focus on preparing students for their first jobs.
Escoffier offers both associate degrees and diploma programs in Culinary Arts and Plant-Based Culinary Arts. These programs are designed to help provide students with the cooking skills they might need in a professional kitchen, as well as an introduction to business and entrepreneurial concepts.
Escoffier offers additional diplomas and degrees in Baking & Pastry Arts. Focusing on breads, chocolate, pastries, and other desserts. Some of these programs also include coursework in cost control, communication, and other valuable business topics.
For those looking to work in hospitality management, Escoffier Boulder also provides an online associate degree program in Hospitality & Restaurant Operations Management. This business-focused curriculum prepares students to be leaders in the industry through strong communication, financial management, organizational efficiencies, and more.
All Escoffier programs require that students complete an in-person externship where they'll get real-world experience. This lets them put their skills to use in a working kitchen and gives students a taste of the brigade de cuisine.
"I would say that Escoffier is a very well-rounded program. The experience that you're going to get at Escoffier, especially the farm-to-table program, is so phenomenal because so many people don't have an idea of where their food comes from. Most kids don't even know that food actually came from somewhere other than a store. And to be able to have that aspect is phenomenal."
Erica Boykin, Family & Consumer Sciences Teacher, Summit High School in Arlington, TX*

Students who are eager to get to work as quickly as possible may find that an on-campus diploma program is the right choice for them. And students who are looking for a wider variety of courses might find an associate degree program to be a better fit.
Dedicated Culinary School vs. Community College
What about a local community college's culinary program?
That's certainly an option! A community college program could be a good fit if you plan to stay in your local area throughout your career. But a dedicated culinary school may have better name recognition on a national level, which can be useful if you hope to take your skills to another city or state.
A dedicated culinary school is also typically a more focused program. At Escoffier, the associate degree's math and writing requirements are met in hospitality-based courses like Foodservice Math & Accounting and Technical Writing for the Hospitality Industry. But at a community college, those courses will be the same for all students, regardless of their program. And they may be harder to apply to your culinary career.
If students plan to transfer to a four-year college after completing their associate degree, community college may make sense. But if their goal is to start working in the culinary field as soon as possible, a dedicated culinary school might be a better choice.
Choosing Your Campus
High school students have a number of options to choose from when deciding where to take culinary classes.
Escoffier has ground campuses in Austin, TX and Boulder, CO – two cities with lively cultures and food scenes. We are also the first accredited U.S. culinary school with 100% online Culinary Arts and Pastry Arts degrees and diplomas programs with hands-on industry externships.*
Online Culinary School
Yes, you can attend culinary school online!
Online culinary school gives students the option to earn their education while still living at home, or while working their first job after high school graduation. If you're a parent researching culinary school for teenagers, online programs offer flexibility and let students fit school in with their other obligations.
"I think Escoffier's online education makes a student very competitive…I would absolutely recommend Escoffier. It's affordable, it's flexible and it's comprehensive. The Chef Instructors are so wonderful, and they care very much about the success of every student."
Laura DeVries, Online Culinary Arts graduate
A typical week might start with reading assignments and a live instruction session with classmates. Then, students complete their weekly cooking assignments, providing photos and a written summary of what they've made. The Chef Instructor then assesses submissions and provides feedback to help students improve and achieve course and program objectives.
Escoffier's online programs culminate in a hands-on industry externship. The flexibility offered by online culinary school makes it more accessible to students with various scheduling needs.
The Essential Culinary Career Survey

The Essential Culinary Career Survey

What's your ideal culinary career: Fine dining? Your own restaurant? Pastry? Get our self-evaluation survey to find out!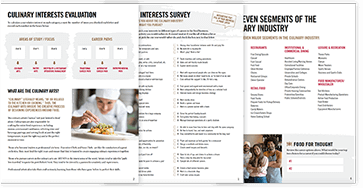 We've compiled a checklist of all of the essential questions into one handy guide: career options, culinary interest surveys, educational opportunities, and more.

YES, I want the survey!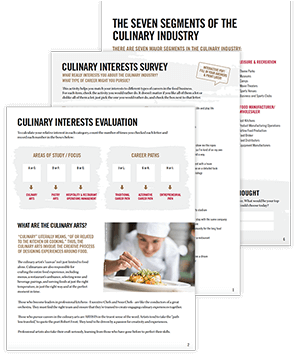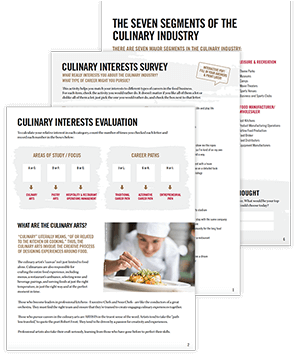 On-Campus Culinary School
One of the major benefits of attending culinary school on-campus is the experience of living in an exciting city, with exposure to new foods and different cultures. A city with a vibrant food scene like Austin or Boulder will provide plenty of opportunities to try new cuisines and attend food-focused events like festivals and competitions.
Escoffier's on-campus programs begin with required reading before each lesson. Then, students receive a lecture and demonstration from their Chef Instructor, explaining the day's techniques and recipes.
Next, it's time to cook. This can include up to four hours of cooking time, with a lot to do! After feedback from the Chef Instructor, students clean up and discuss the next day's assignment.
While the assignments look much the same between on-campus and online culinary school, the on-campus program requires students to be available and in the classroom for up to six hours per day.
Just like the online programs, the on-campus programs require that students complete a culinary externship foodservice establishment.
Paying for School: Tuition and Financial Aid
Once a high school student has decided they'd like to attend culinary school, the next question is usually, "How much will it cost?"
Tuition at a traditional four-year public and private university can cost $100,000 or more.
However, the costs of culinary education will vary depending on the school and the program. 2021 tuition for Escoffier's degree and diploma programs range from $16,016 to $33,300. And since the programs are shorter, culinary school graduates will have the opportunity to enter the workforce two or even three years before the students in a four-year program.
But how to pay for it?
There are many sources of financial aid available to fund a culinary school education. To start, all students should fill out the Free Application for Federal Student Aid (FAFSA) to see which federal grants or loans they may qualify for.
Next, leave no stone unturned in the hunt for scholarships and grants!
You can find industry related scholarships through the National Restaurant Association Educational Foundation. Also check listing sites that accumulate nation-wide scholarship opportunities like these:
Don't forget to investigate local scholarships as well!
Many small businesses will offer modest scholarships to local graduates, but you have to seek them out. Check with local restaurants and hospitality businesses first. Your high school guidance counselor may also have suggestions.
"You have to be willing to invest in yourself. It is cost effective and the connections you make with your Chef Instructors; they invest in you back."
Wyl Lima, Sous Chef at Temporis, Austin Culinary Arts Graduate
Finally, private loans can be taken out to finance the remainder of your education.
Escoffier also offers flexible payment plans to students who plan to pay for their education by check or credit card. Reach out to a Financial Aid representative for more information.
Support Through Your Education and Career
Culinary school graduates are not chefs yet, but they are ready to get their first jobs on the path to becoming chefs if that's what they want!
We all love to watch eccentric celebrity chefs on the Food Network, but they comprise a small minority of working chefs. The reason those famous faces reached such heights of success is their genuine passion for food and cooking professionally. The love for the industry comes first!
Though not everyone will be the next Gordon Ramsay or Bobby Flay, there is a long list of career options available in the world of food, and many of them don't include working in a kitchen at all.
Culinary school graduates have gone on to become:
Restaurant chefs
Restaurant owners
Pastry and dessert chefs
Pastry or chocolate shop owners
Bakers
Caterers
Food writers
Academics
Butchers
Farmers
And more.
While the classroom provides students with the foundational skills for many of these careers, a great culinary school will go further when helping students and graduates to achieve their goals.
At Escoffier, each student is assigned a Success Coach to provide encouragement and resources as they work through their programs. If a student seems to be struggling, their coach will reach out with support to help the student stay on track toward their goals.
Upon program completion, Escoffier's dedicated Career Services staff is available to help graduates in their search for employment. Resume writing help, interview coaching, and networking opportunities will all be accessible to students and graduates.
Final Notes
Here are a few more things that high school students should know about culinary school.
Dietary Restrictions
If you have dietary restrictions, you can absolutely still attend culinary school. Gluten-free, vegan or vegetarian, dairy-free—there is a big market for chefs that can accommodate specific diets. You'll just have to be a bit creative and that's what cooking is all about.
If you have an allergy, like a peanut or shellfish allergy, please contact us.
Housing
Most on-campus culinary schools don't offer dorms or on-campus housing. Students are responsible for securing their own apartments. Escoffier has partnerships with apartment complexes in both Austin and Boulder that may be a helpful resource to incoming students.
Professionalism
The food industry is a business. Even though our "offices" are kitchens, and our "suits" are white coats, we are expected to display respect and professionalism to fellow students, Chef Instructors, future coworkers, and supervisors.
Students will be expected to arrive for classes on time and well-prepared. If you can do that, you'll have crossed one of the major hurdles to success in the culinary industry!
"For prospective students, I think it's important that they're serious. You have to be serious in this business. So many people watch the Food Network and think they're going to be the next Bobby Flay. Well, no, you're not. You need to be serious about the craft and be serious about what you're doing, and make sure it's what you want to do."
Escoffier Chef Instructor John Hummel
Students can expect to receive the same respect in return. Culinary school is a time to learn. Contrary to what you may see on TV, no one will be throwing anything at you!
The Next Steps
The end of high school is a time full of possibility and excitement. This next phase of your life is all about becoming the person you want to be, and we'd love to be part of that journey.
The team at Escoffier is ready to answer any additional questions you may have. Contact our Admissions Department to learn more and get your application started!
*Our Boulder, CO campus is the only accredited institution in the United States to offer both fully online diploma and degree programs with culinary classes and hands-on industry externships. We are accredited by ACCET – A Partnership for Quality®. ACCET is listed by the U.S. Department of Education as a nationally recognized accrediting agency.
If you found this article helpful, try one of these next:
This article was originally published on August 5, 2020, and has since been updated.