Wow! What a fun demonstration by Chef Ben Robinson yesterday. We had approximately 500 viewers for Chef Ben's Pandemonium Pizza Zoom demonstration. Escoffier students, faculty and Chef Ben fans from all over the world were in attendance; and asking probing questions! He even shared who his favorite 'chief stew' is on the hit Bravo Network show, "Below Deck". Is it Hannah or Kate? You'll have to watch to find out!
Let's Get This Pandemonium Pizza Party Started
We were thrilled to partner with Chef Ben for this exclusive online event. During our session, he provided an in-depth tutorial of his signature Pandemonium Pizza, including how to make the dough and create the sauce…all from scratch, using his favorite ingredients. If you're interested in sourcing his exact products, they are sold in a kit on his website, so you don't have to search for them individually. The only items you will need to source are fresh cheese, a red chili pepper-he recommends Fresno chilies, and basil; an item easily found at a local farmer's market this time of year.
The Secrets Are Out
Throughout his presentation we chatted about his career, he fielded questions from the viewers and of course, gave us play-by-play on the art of creating pizza. He even let us in a few of his fun, and eye-opening, secrets:
He's made pizza with mascarpone and smoked salmon
The heat of chili peppers (used in his sauce) actually comes from the ribs of the peppers that hold the seeds, not the seeds themselves
He doesn't like to use sugar in anything if he doesn't have to (something he is passionate about as a Certified Health Coach)
He is a self-proclaimed perfectionist
He's actually used a wine bottle to roll out pizza dough when he can't find a rolling pin
He considers pizza a cheap work of art
He was very encouraging to every viewer, including those who are not on a culinary education path, to experiment with ingredients when making pizzas. He said that in the beginning you will get it wrong more times than you will get it right, but it's the process that pushes you towards figuring out what works. It actually took him about 10 pizzas before he stumbled upon what he thinks is the perfect process. His passion for pizza comes from the idea that pizza nights bring people together. Now especially, as we're all spending more time at home, this is a fun way to get the family involved in cooking.
Pandemonium Pizza Recipe – Courtesy of Chef Ben Robinson
Dough
7g Dry Active Yeast (approx 2 heaped Tbsp.)
1 cup water @ 105F degrees
3 cups all purpose or pizza flour
1 tsp sugar
1 tsp sea salt
1 Tbsp olive oil (preferably extra-virgin olive oil)
Put yeast into a mixing bowl. Chef Ben prefers to use a stand mixer.
Pour approximately ¼ cup of the water into the bowl with the yeast.
Stir yeast and water with whisk; let activate for approximately 5 minutes or when bubbles form.
Add flour, sugar and salt.
Attach dough hook to mixer and begin mixing.
Pour in remaining water.
Continue mixing, sometimes you may need to add a bit more water or flour for proper consistency.
Add in olive oil.
Lightly grease a baking sheet.
Form the dough into a smooth ball and place in the middle of the sheet.
Place a damp cloth over the dough and place sheet in warm area allowing the dough to double in size; approximately one hour.
Flour a working surface and place dough on top.
Form dough into a log shape and cut in half, producing enough dough for two pizzas
Work both pieces of dough into ball shapes, much like a mozzarella ball by rolling it into itself.
Once in a ball shape, fold in all the seams and smooth out the form.
Place both dough balls back on baking sheet and again cover with a damp towel.
Allow to rest again for another 60 to 90 minutes, if using immediately. If making the dough in advance, place in the refrigerator until ready to use-up to 3-4 days. When needed, dough should be removed from the refrigerator approximately 90 minutes before use to come to room temperature.
Neapolitan-Style Marinara Sauce
4 Cloves Fresh Garlic-thinly sliced and mince if preferred
1 Fresh Red Chili pepper (Chef Ben likes Fresno peppers) – thinly sliced starting at the bottom and working up until seeds are reached, then mince if desired
1 can (approximately 14oz) San Marzano tomatoes
Fresh Basil leaves
Extra Virgin Olive Oil
Heat a sauce pan on medium heat.
Add olive oil-enough to coat the bottom.
Once oil is hot, add chili and garlic and saute until the garlic turns light brown.
Cook on medium heat for about 4-5 minutes. Do not burn the garlic.
Once garlic is starting to turn brown, add the tomatoes and basil. Best to add the leaves whole, but you can bruise them slightly if desired. Using a wooden spoon, stir the tomato mixture.
Reduce the sauce for about 20 minutes on a low heat.
Salt to taste.
Allow the sauce to cool slightly and place in a container.
Place the container in the refrigerator if desired to cool completely before spreading onto pizza dough.
You can customize the sauce to individual tastes. If chunky style sauce is preferred, leave ingredients alone or process slightly with a potato masher. If a very smooth style sauce is preferred the sauce can be placed in a blender or an infusion blender can be used to make a puree.
Assembling the Pizza
Prepare the oven. Traditional ovens do not get hot enough to appropriately cook pizzas. Chef Ben uses this unique technique: turn on the oven to broil. Approximately 4" from the broiler, place a pizza stone on the oven rack. Allow stone to heat for about one hour. If your oven can reach 550F degrees you can cook using the standard baking method as well. Chef Ben wholeheartedly believes in trial and error.
Flour a working surface.
Working with one of the dough balls, flatten it slightly and place each side onto the floured surface so each side has a light coating. This prevents it from sticking.
Push on the dough from the middle out to the ends-this moves all the air bubbles to the outer crust.
Lift dough from the surface by grasping it from an end. Rotate the dough as you continue grasping as the weight shifts and lengthens the dough.
You can place the dough on top of your fists, to twist and rotate to continue working it, but it is not necessary.
To finish working the dough use a rolling pin to create a nice even surface.
Place two ladles of the cooled marinara sauce in the middle of the dough.
With the back of the ladle work the sauce out to the edges of the dough using a circular motion.
Feel free to adjust the amount of sauce to your liking.
Add fresh mozzarella cheese; adjust the amount to your preferences.
Feel free to add additional fresh basil leaves – Chef Ben likes them whole so they crisp up in the oven
Finish the topping with some grated Parmesan cheese
Place the pizza on the stone that has been under the broiler for about an hour. Cook for approximately 8-10 minutes. Remove pizza from the oven and allow it to rest for a few minutes. This solidifies all the ingredients.
He Keeps It Real
What we particularly loved about his demonstration was that he used standard cooking equipment, not a professional kitchen, which is something he is used to working in either on the largest yacht in the world at age 24 or in a 3-Michelin star restaurant in the UK, where he started his culinary career. This made it very relatable to all our viewers. He even shared his little secret for the best cooking method at home. As standard ovens don't get nearly hot enough to properly cook a pizza, he uses the broiler–watch the pre-recorded video tutorial for how Chef Ben prepares his oven for the best pizza!
He graciously wrapped up with a Q & A session while the pizza was in the oven, and enjoying a nice glass of Chianti. He encouraged Escoffier students and potential students to go with their heart when it comes to pursuing a culinary career. Right now, times are tough, but he told them to be strong, because everyone can succeed if they have the desire and passion.
The Essential Culinary Career Guide
The Essential Culinary Career Guide
What's your ideal culinary career: Fine dining? Your own restaurant? Pastry? Get our self-evaluation guide to find out!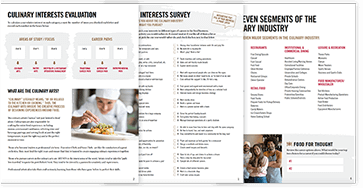 We've compiled a checklist of all of the essential questions into one handy guide: career options, culinary interest surveys, educational opportunities, and more.
YES, I want the guide!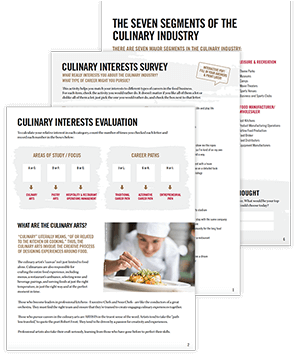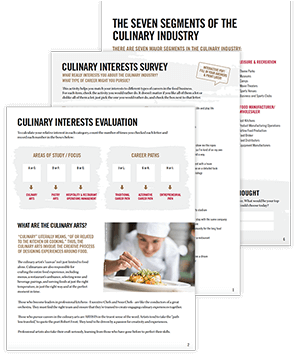 You Can't Win If You Don't Enter
Don't forget about the chance to win one of Chef Ben's signature knives. Enter our custom pizza contest. Even if you didn't attend the live demonstration you can still enter for a chance to win.
Contest Criteria
Using Chef Ben's advice on experimenting with pizza ingredients, take a video of yourself (simply using your phone) describing your own signature pizza and post the video on Instagram using the hashtag #EscoffierChefBenChallenge. Remember, this is a video challenge, so photos will not be included for judging if posted.
State ingredients and any special prep or cooking methods in your video and show your creation
Chef Ben will be judging all entries on use of innovative ingredients and overall visual appeal.
Entries are due no later than Midnight CST on May 20th, 2020
Winner will be notified shortly after deadline via private message on Instagram