Online
Searching for online cooking classes or a culinary arts degree? Through our online diploma and degree programs in Culinary Arts, you'll study interactive courses delivered by our professional chef instructors, engage in live classroom discussions, learn the business side of the industry and fine-tune your techniques and knowledge – all in the convenience of your own kitchen!
Curious about applying to online culinary school? Download: How to Enroll in Escoffier: The Essential Guide.
Gain the Same Skills as Ground Campus Students with Escoffier's Online Learning Format
Diploma in Culinary Arts and Operations
Advance your food service career with an online Culinary Arts and Operations program from Escoffier. Our balanced curriculum combines the latest in contemporary culinary techniques and methodologies as well as courses that help provide a relevant business foundation. Online culinary school students are taught through a structured learning model that begins with the basics and ends with a real-world, hands-on industry externship.
The Culinary Arts and Operations courses from our online diploma program help you prepare for a variety of food-industry roles in settings such as restaurants, hotels and other food service settings. A modern approach to culinary arts education, our program blends a lecture setting with classes emphasizing theoretical knowledge and practical skills in areas such as contemporary cuisine preparation, farm-to-table, purchasing and cost control and world cuisines. Hands-on experiences further prepare students for a career in the culinary arts.
Associate of Occupational Studies Degree in Culinary Arts
For students who have completed one of our diploma or certificate programs or for new students who are planning to earn a degree, we offer an Associate of Occupational Studies Degree in Culinary Arts. Escoffier was one of the first online cooking schools for aspiring culinary professionals. The program is available 100% online, with a hands-on industry externship, and can be completed in just six months depending on the program you have already completed.
The Associate of Occupational Studies Degree in Culinary Arts program builds on skills, methods and business foundation from our diploma program with more advanced content in the areas of business communications, world history and culture, foodservice math, and nutrition. Students also participate in an advanced, hands-on industry externship where they develop their skills and acumen in a real world setting. Upon program completion, students can gain a comprehensive foundation of directly transferable skills in food service preparation, operations and management.
The Essential Culinary Career Guide
The Essential Culinary Career Guide
What's your ideal culinary career: Fine dining? Your own restaurant? Pastry? Get our self-evaluation guide to find out!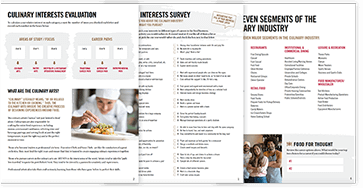 We've compiled a checklist of all of the essential questions into one handy guide: career options, culinary interest surveys, educational opportunities, and more.
YES, I want the guide!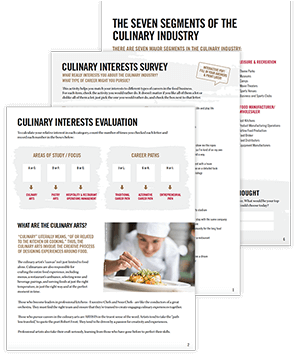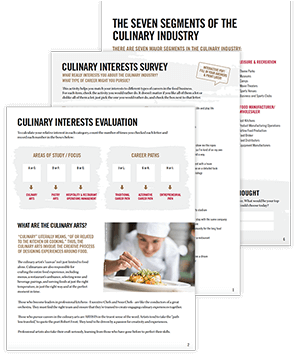 Program Courses
Courses of study in the online program concentrate on both theory and application of culinary arts in the following areas:
Culinary Foundations

As the preliminary course, this class covers basic techniques like terminology, seasoning, cooking methods, knife skills, mise en place, and food safety and sanitation.

Foodservice Management

This course covers the different types of commercial food service operations, and how to manage each using the principles of good service. Students study the hierarchy of management in food service, and the skills needed to succeed as a manager: training employees, motivating them, disciplining them, and creating a safe and positive work environment. The course also explores how to act responsibly and make decisions that benefit the company.

Culinary Arts and Patisserie

Build your patisserie skills upon the foundations taught in Culinary Foundations with breakfast cookery, Charcuterie and Garde Manger. Cover pastries from bake shop staples to international desserts, along with the theory and chemistry of pastry arts. Includes cookies, custards and breads.

Menu Design and Management

Learn how the menu is used as a financial tool and communication tool. Covers all aspects of menu planning and design, ranging from visual design to price analysis to making use of available resources. Students learn about both food and beverage menus.

World Cuisines

Explore global cuisines, learning the cultural history, key ingredients, cooking styles, characteristics, and recipes of everything from Asian and African to European and American gastronomy.

The Farm to Table Kitchen

More than just a trend, farm-to-table is an important part of our school's philosophy. Learn the relationship between the chef and the supplier, how to use sustainable and organic foods in menu production, different methods of sourcing food, and more.

Purchasing and Cost Control

This course introduces students to purchasing, receiving, inventory management and menu pricing. Students learn how to minimize costs and maintain a full range of customer services. The course progresses from the fundamentals of culinary math into an overview of storeroom operations, inventory, portion control, as purchased and edible portions, ingredient conversions, and recipe costing.

Culinary Entrepreneurship

This course covers such topics as business planning, pricing, credit management, government regulation, legal concerns. Business ethics and the crucial role and importance of management and leadership are also covered.

Culinary Industry Externship I

Apply and build on the skills and techniques you've learned in the program in a real-world environment. Gain hands-on experience in a professional kitchen, develop industry contacts, build working relationships and hone the skills necessary for your culinary career.
Online Curriculum
The online culinary programs give students the skills and experience they need to grow careers in the professional food service and restaurant world. Throughout our online culinary courses, students will learn essential skills for working in the food service industry because our education emphasizes not only cooking but also business operations and management for a well-rounded learning experience. Our courses allow students to explore modern and classic cooking methods as well as important professional skills like menu planning, facility design, employee training, safety and sanitation, food cost control, and much more.