While aspiring chefs may enroll in culinary school for different reasons, one thing that nearly all aspiring chefs have in common is a competitive drive. Partaking in competitive cooking events gives you a chance to show off your skills in a fun and constructive way.
Aside from the potential for cash prizes, there are tons of benefits to entering a cooking competition. It's a great way to stand out and put your skills to the test.
For example, cooking competitions are a great place to network and meet mentors. The exposure and learning experience can also help with career advancement.
How to Choose the Right Cooking Competition for You
There's no shortage of competitive cooking events, with options ranging from small local contests to nationally broadcasted television shows. There are events for amateur home cooks and master chefs alike, and you can find specific competitions for just about any type of food.
To decide which competition is the best fit for you, try thinking about your specific skills and experience level and go from there. If you have a specialty in mind, look for competitions that focus on whatever that may be.
Once you find what you're looking for, fill out the application to apply. Make sure to check out the eligibility rules to confirm that you are qualified first. Many competitions have restrictions on things like age, location, or types of equipment and ingredients permitted.
4 Ways to Set Yourself Up to Excel in Any Cooking Competition
No matter what type of competition you land in, these tips can help you succeed in any event.
1. Research Contest Rules and Judging Criteria
After signing up for a cooking contest, it's a good idea to thoroughly read up on the rules and regulations. Sometimes one little misstep or missing piece of information is enough to get you disqualified or eliminated from an event, so it's important to understand the specifics of each competition.
Lance McWhorter, Auguste Escoffier School of Culinary Arts online graduate, military veteran, and Food Network's "Chopped" contestant, won the esteemed Cochon 555 competition in 2020 with his team. As he describes the competition criteria: "Cochon 555 is a very prestigious heritage pork whole animal utilization competition. They have nine stops in the U.S., with five chefs and five farmers at each stop. You get paired up with a farm, and you get a whole pig, but you have to prepare six dishes to feed 13 judges and about 500 to 600 attendees."
Get familiar with the judging panel and judging criteria. Learning which elements are being assessed will help you to focus on those aspects when creating your dishes, whether that be taste, presentation, or originality.
2. Practice, Practice, Practice!
Before any big game or meet, athletes spend countless hours practicing. The same should apply for chefs before every competitive food event. Cooking skills are obviously fundamental to success as a competitive chef. You should work on mastering the basic skills and then building up your knowledge base.
One way to do this is by going to culinary school. According to Auguste Escoffier School of Culinary Arts Chef Instructor John Hummel, "students that go to culinary school have an advantage over those that don't…[For example,] I didn't have to teach them how to brunoise cut a carrot. They knew how to do it." In culinary school, you'll have plenty of opportunities to practice in order to really hone in on your cooking skills and techniques.

When you cook the same dish several times, you'll find ways to streamline your efforts and become a more efficient cook. Timing is precious in cooking competitions, so it's important to look for ways to multitask whenever possible. The more cooking you do, the better off you'll be to handle any mistakes or obstacles that may arise during the competition.
3. Avoid Overcomplicating Dishes: Keep It Simple
People tend to overcomplicate things, but sometimes a simple meal that lets the ingredients shine is more effective. It's also a smarter use of time.
Chef and writer Jim Webster won $12,000 as part of Mario Batali's Ultimate Grilling Challenge. In a column for the Tampa Bay Times, he said that part of his winning strategy was making simplicity his number 1 priority. He used only 7 ingredients to create a dish that was straightforward. Webster said that judges aren't looking for complexity; they want the freshest ingredients and a meal that is tasty and enjoyable.
Using a long list of ingredients not only creates more stress for you, but also demonstrates an inability to decide on the most important elements of a dish. Show the judges your knack for creating a thoughtful, intentional flavor profile and exhibit mastery of a few skills rather than a jack-of-all-trades approach.
The Essential Culinary Career Survey

The Essential Culinary Career Survey

What's your ideal culinary career: Fine dining? Your own restaurant? Pastry? Get our self-evaluation survey to find out!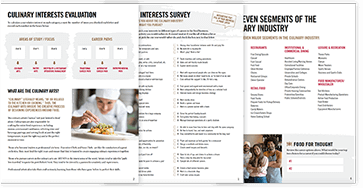 We've compiled a checklist of all of the essential questions into one handy guide: career options, culinary interest surveys, educational opportunities, and more.

YES, I want the survey!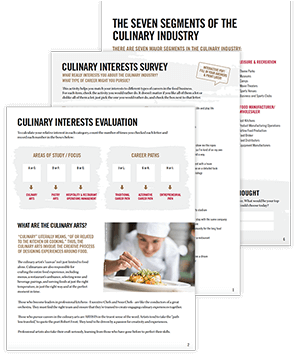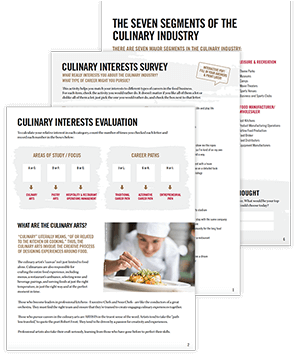 4. Get Your Head in the Game: Mental Mise en Place
So you've done your research, you have the skills down, you have your game plan in place… what's left? Mise en place is a phrase that culinary students know well, meaning, "well prepared and organized, having everything 'in its place'" prior to cooking. Mental mise en place refers to being in the right mindset going into the competition.

Having confidence in what you're doing is really important. Don't be afraid to make mistakes—it's part of life, and it's a learning opportunity. Oftentimes, people will panic during a cooking competition and make mistakes where they normally wouldn't.
Escoffier Chef Instructor John Hummel explains a similar situation in the classroom, "I've seen quite often where students will do really well in the classroom setting. But when it comes to their practical [application] or their cooking test, they can't handle the pressure. So I think that just comes with time."
If you don't have a ton of cooking experience, cooking under the time crunch of a competition is a great opportunity to practice for the real world. So try to stay calm and have fun! Each time you enter a cooking competition or a practical exam, things will get easier. Cooking competitions often present you with crazy challenges that you'd never have the opportunity to do normally, so embrace it and have fun!
Cooking competitions can be really hard, but also really rewarding, much like a career as a professional chef.
Some dream of starting up their very own restaurant while others would rather hit the road in a food truck. But what all these jobs have in common is a desire to serve, to use food as a means of enriching other people's lives. No matter what your dream is, culinary school could be just the right step to help you achieve it.
More reading on skills you can develop in culinary school: