Pastry school—and indeed, any type of advanced education—requires an investment of money and time. There's no way around that. But is it an investment that comes with a positive return?
The value of your education could come in the form of better job opportunities and higher earning potential throughout your career. And if your goal is to become an expert pastry chef, shouldn't you take advantage of every chance to get closer to that dream?
If you want to put yourself in the best possible position for a productive and profitable pastry career, then a formal education can be worth it. Here's why.
A Pastry Education May Lead to Better Job Prospects and Advanced Certifications
After completing pastry school, graduates are ready for their first jobs in the industry. A degree or diploma from a reputable pastry school might mean the difference between getting that dream pastry job and being passed over for someone with more education or experience. Remember—a pastry education may never bar you from a potential job. But not having that education could.
When you have a pastry degree or diploma on your resume, it can show that you're committed to your career. This isn't just a hobby for you—it's a vocation. While pastry school graduates don't graduate as pastry chefs, they may find themselves much better prepared for their first industry jobs. These jobs might include work at pastry shops or bakeries, restaurants or cafés, hotels or resorts.
While entry-level roles often focus on prep work, some graduates find that they may progress more quickly through the pastry ranks than their peers who don't have the same level of education. And as they gain more experience, they may move on to plated desserts or spend their days focused on delicate French pastries or perfect viennoiserie.
Pastry school graduates may bring valuable skills to their employers, from expertise in dessert composition and chocolate to cost control and menu planning. The more skills you bring with you, the less training time you may need. And in the fast-paced culinary world, quick learners can be highly prized!
Pastry school graduates may also find it easier to get advanced pastry certifications. The American Culinary Federation offers a suite of industry-recognized certifications for pastry cooks and chefs, culminating in the ultra-rare Certified Master Pastry Chef® designation. Currently, only 11 pastry chefs hold this distinction, one of which is Escoffier Director of Culinary Industry Development, Chef Frank Vollkommer. These credentials are desirable resume builders for pastry experts. And if you have an associate degree, you may already meet one of the baseline requirements for a beginner's certification.
Chefs often want to hire cooks who care about the quality of the product they're putting out. Your education can show that you're dedicated to the field and to your pastries. And that may make you a more attractive candidate.
"At some point, I decided that if I wanted to make a transition into pastry, and if I wanted to really grow my career to greater potential, I would have to stop what I was doing and go to school."*
Frank Vollkommer, Certified Master Pastry Chef® and Escoffier Director of Culinary Industry Development
The Financial Investment in Pastry School May Be Lower Than You Think
Compared to a four-year degree at a private university, a pastry school education can be surprisingly affordable.** And if you attend an accredited school like Auguste Escoffier School of Culinary Arts, you may be able to apply and qualify for federal student loans that can help you pay for your education over time.
There are also a number of culinary and pastry scholarships and grants available to eligible students through individual schools, industry associations, private companies, and military/veteran's benefits. By taking advantage of these resources, you may bring the cost of your education within reach!
The Essential Culinary Career Guide

The Essential Culinary Career Guide

What's your ideal culinary career: Fine dining? Your own restaurant? Pastry? Get our self-evaluation guide to find out!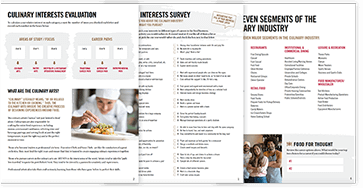 We've compiled a checklist of all of the essential questions into one handy guide: career options, culinary interest surveys, educational opportunities, and more.

YES, I want the guide!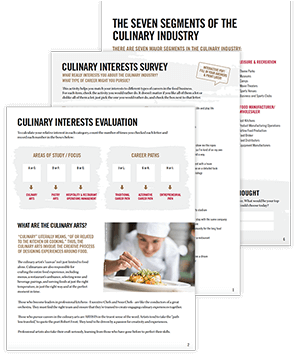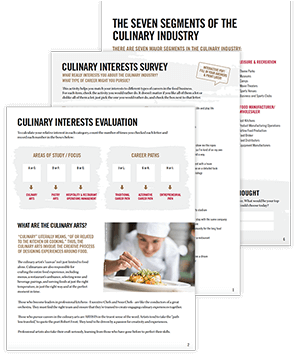 Clicking the "Get the Guide Now" button constitutes your express written consent to be contacted via phone, text, and/or emails by Auguste Escoffier School of Culinary Arts at the number(s)/email you provided, regarding furthering your education. You understand that these calls may be generated using an automated technology. You can unsubscribe at any time or request removal of street address, phone number, email address via Escoffier website.
How Much Does Baking & Pastry School Cost?
Tuition costs at Escoffier vary based on the campus (Austin, Boulder, or online) and program (diploma or degree). As of June 2022, program costs fall into the following ranges:
Pastry Arts Diploma – $17,258 – $20,891
Associate Degree in Baking & Pastry – $28,825 – $35,685
Learn more about the cost of baking & pastry school.
Why Learn in School Rather than "On the Job?"
The unique benefits to pastry school can't easily be replicated in a professional kitchen. While you may continue to learn new skills throughout your career, here's how formal education could give you a leg up.
Pastry Students Build Scientific Foundations
A key difference between the amateur pastry cook and the professional pastry chef is their level of underlying scientific knowledge.
An amateur knows that when they put a dough of flour, sugar, butter, eggs, milk, and yeast into the oven, they'll get brioche. But the pro understands how the process of kneading that dough leads to the formation of necessary gluten, and how the yeast introduces carbon dioxide into the dough, which creates the rise.
In pastry school, students can be exposed to scientific concepts so they understand what is happening when they knead, fold, chill, bake, and cool their creations. It's this conceptual knowledge that lets professional pastry cooks experiment and create their own exciting recipes. Since they understand the science, they can make tweaks that change the flavor of a recipe without damaging its underlying structure.
"The knowledge from Escoffier has given me the skills and confidence not only in my baking, but to take my baking and creations to the next level."*
Trista Besecker, Online Pastry Arts Graduate
A Pastry School Curriculum Is Expert-Approved
Not all professional pastry chefs have the same level of expertise in their field. If you're working with a chef with modest experience, there will be limits to what they can teach you.
But if you attend pastry school, you can be in the hands of a team of Chef Instructors and educators who are experts in both pastry and education. The curriculum at Escoffier has been carefully crafted and revised over the years to provide an opportunity for students the foundations they can use in their work, day after day.
Plus, pastry school can provide students a place to make mistakes. When you're on the job, errors can be expensive and time-consuming. They could even cost you your job. But in school, you're expected to make mistakes! And if you can learn your lesson in school, you're unlikely to make the same mistake on the job.
"I tell students that if you're going to make a mistake, culinary school is where to do it. You want to step outside your comfort zone, [but] that's hard for students to do if they are scared of making mistakes."*
Emily Maddy, Escoffier Baking & Pastry Chef Instructor
Pastry School May Help You Find Your Niche
You may think that everyone in pastry school knows exactly what they want to do when they get out. But that's certainly not the case!
Many pastry students are still figuring out exactly what they want out of their careers. And what better place to explore what lights you up than in school?
You may find that you have a knack for laminated doughs, and realize you want to be the king or queen of croissants. Or maybe you take special joy in creating perfect macarons, with just the right amount of crunch and a perfect chewy inside. Perhaps this will lead you to start a home-based macaron business.
Pastry school is a time for learning and discovery. When you open yourself up to such a wide variety of skills and styles, you can explore what makes you tick. Escoffier Baking and Pastry Executive Chef Anne Lanute says, "You come to the industry saying you want to bake cakes, for example. But [in baking and pastry school], you may find an area that you love even more. There are many things we make that you may not have been exposed to."*
"You may find that you have a talent in an area you didn't know you had. Give it a shot."*
Anne Lanute, Escoffier Baking & Pastry Executive Chef
The Connections You Make in Pastry School May Be Invaluable
In pastry school, you can be surrounded by both instructors and fellow students who are all wild for pastry. This means you'll be rubbing elbows (either in person or online) with people who have worked or will be working in the industry.
These contacts could easily be your next source of employment, inspiration, or just friendly support. Your pastry network may grow throughout your career, but you can start with the group of industry peers that you meet in pastry school.
Escoffier graduates also have access to the Escoffier Alumni Association, where they may find additional mentorship opportunities and connect with other graduates.
It's Worth It to Go After Your Dreams
Pastry school is an investment. But it could come with major rewards, like more job opportunities, advanced credentials, and the foundational skills that you may use throughout the rest of your career.
This investment is not out of reach. Most Escoffier students take advantage of financial aid in the form of scholarships, student loans, and military benefits in order to fund their education.
To find out more about the curriculum at Escoffier, and how you can make it work with your financial situation and time availability, contact our Admissions Department.
To learn more about the world of pastry, try these articles next:
*This information may not reflect every student's experience. Results and outcomes may be based on several factors such as geographical region or previous experience.
**Consider your situation and resources to determine what is affordable and within budget for you.