If you're a home chef or culinary school student looking to skip out on menu planning and grocery shopping, meal kit delivery services can help ease your burden. While meal kits can make cooking at home easier, choosing a brand is a difficult task itself. This is especially true in recent years.
The COVID-19 pandemic accelerated meal kit growth as consumers sought to skip the empty shelves and crowds at grocery stores. In 2020, the global meal kit delivery service industry was valued at $12.73 billion. While this big market means you'll have lots of options to select from, it can also make it difficult to choose a kit.
We're going to cover seven of the best meal kit delivery services so you can find one that fits your palate, your budget, and your lifestyle.
Seven Best Meal Kit Delivery Services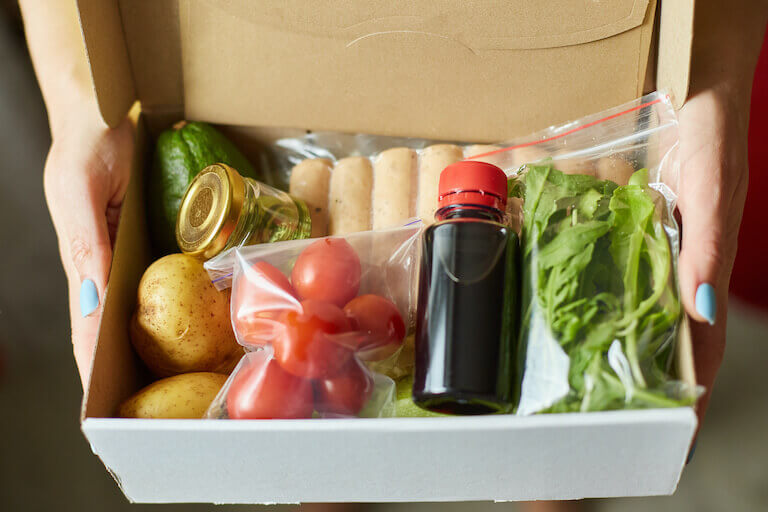 1. HelloFresh
If you're looking for a wide variety of recipes to suit every kind of eater, HelloFresh is a great choice. Each week, you'll be able to choose from 50 different recipes, including kid-friendly, vegetarian, and low-calorie options.
HelloFresh does a good job offering affordable, tried-and-true favorites as well as a few meals that may give you the opportunity to expand your palate. You can order two to six recipes per week, so it's easy to create a plan that fits your needs.
Recipe developers have also kept time-starved home cooks in mind with 8+ weekly meals ready in 20 minutes or less.
Price: starting at $7.49/serving
2. Blue Apron
Blue Apron allows you to try new cuisines without breaking the bank. They offer a rotating selection of signature, vegetarian, and wellness meals. Each category includes inventive meals such as cheesy truffle and spinach burgers, shawarma-spiced squash and farro bowls, and chipotle-fig glazed tilapia and barley.
Compared to other well-rounded kits, Blue Apron's instructions are a bit more advanced. Don't be surprised if you find yourself researching a specified cooking technique.
One unique aspect of Blue Apron is it's wine-pairing program. They offer 500 mL bottles of wine that include pairing tips, which can be helpful if you're new to the world of wine.
Price: starting at $7.49/serving
3. Home Chef
Home Chef is one of the best kits if you're new to cooking or pressed for time. Their recipe cards are easy to follow and include helpful hints that will improve your kitchen skills. Plus, they offer numerous kits that have your meal ready in 15 minutes or less.
While recipes are simple to make, they involve more steps than reheating a frozen meal. By spending half an hour cooking, you'll end up with meals like blackened scallop pasta and spicy spaghetti arrabiata with Italian sausage. That said, Home Chef also offers pre-portioned, oven-ready meals for those days you don't want to cook.
Price: starting at $6.99/serving
4. Sunbasket
When you open a Sunbasket box, you'll feel like you just took a trip to the farmers' market. At least 99% of their produce, eggs, and dairy are certified organic and all meat is free from hormones and antibiotics.
The recipes themselves are health-focused and have a seasonal twist. You don't need to be a professional cook to follow the instructions, but it does help to have some kitchen confidence since recipe cards don't include step-by-step photos.
Sunbasket also allows you to add on individual grocery items like sourdough bread, cauliflower crisps, and raw chocolate bars. While these items are optional, this feature can help you save you a trip to the store.
Price: starting at $11.49/serving
5. Martha Stewart and Marley Spoon
If you're worried meal kits are too simple for your skills and taste buds, check out Martha Stewart and Marley Spoon's service. Their ingredients and instructions allow you to produce meals elegant enough to impress dinner guests.
Compared to other kits, Martha Stewart and Marley Spoon meals involve a bit more prep work and time. They also assume your kitchen is well-stocked with culinary tools and you're more than a beginner cook.
Complex meals and multiple steps means you might end with a kitchen full of dirty dishes. However, you'll be rewarded with meals like fontina-sage stuffed chicken and butter basted whole roasted cauliflower.
Price: starting at $8.99/serving
6. Purple Carrot
Purple Carrot meal kits show that plant-based cooking doesn't have to be flavorless or boring. These kits are perfect if you follow a vegan diet, but their recipes are also great if you're looking to cut down on your meat consumption or eat more veggies.
Many recipes highlight seasonal vegetables, ancient grains, or legumes. Even if you're unfamiliar with some ingredients, detailed instructions make it easy to create tasty recipes like a Bali BBQ tofu sandwich or a butternut squash bisque.
Since Purple Carrot meal kits are plant-based, they typically produce a lower carbon footprint than a standard American meal. So if a more sustainable lifestyle is one of your top priorities, Purple Carrot is a good brand to try.
Price: starting at $9.99/serving
7. Green Chef
Green Chef keeps dietary preferences in mind, with meal kits that fit into keto, paleo, and plant-based diets.
They're also great if you're concerned about the environment, since their kits are certified organic, their packaging is eco-friendly, and the company offsets their carbon emissions.
Recipes are easy to prepare and include options like Thai-style tofu and rice soup, harissa-roasted cauliflower bowls, and Cuban chicken with chimichurri.
Price: starting at $10.49/serving
Culinary Professionals Are a Crucial Component of Successful Meal Kits
While meals are quick to prepare, these meal kit services don't pop out of thin air; each company relies on a team of talented professionals — including chefs, recipe developers, food photographers, food stylists, and other culinary professionals. Once the kits are in your hands, it's up to you to create a meal you'll enjoy.
"You may find that you have a talent in an area you didn't know you had. Give it a shot."
Anne Lanute, Escoffier Chef Instructor
Following meal kit recipes won't replace the skills and knowledge you can discover in culinary school. But they'll help you put balanced, flavorful meals on the table in a fraction of the time it takes to make them from scratch. By ordering your favorite meal kit, you'll also get the chance to explore new dishes while saving time in the kitchen.
Other articles about the world of food & drink you may find interesting: