For aspiring chefs considering culinary school, studying online might not seem practical at first. After all, can you really develop the hands-on skills you'll need in a digital classroom?
Absolutely! Online culinary school consists of reading assignments, chef demonstration, practice, and feedback, just like an on-campus education. But studying online can give students greater flexibility, allowing them to complete their coursework from the convenience of their own home. It all leads to a hands-on industry externship.
Read on to learn more details, or get a customized plan to find the right academic path and financing options for your specific situation.
As the first U.S. accredited institution with 100% online degrees and diplomas that include industry externships,* Auguste Escoffier School of Culinary Arts Boulder is an accredited institution that provides online culinary education. So we're sharing exactly what online culinary school is — how it works, who it works for, and what students can learn.
"I looked at many campuses and programs when I decided to pursue my education, and it was the only platform that worked with my desire, my need to stay in the kitchen. It's just like any brick-and-mortar campus, you will get out of it what you put into it. It has made me a better cook, a better baker, a better leader, a better businessman, and most importantly, a better teacher to my staff."Lance McWhorter, Online Culinary Arts Graduate; Military Veteran; Food Network "Chopped" Contestant; Executive Chef & Restaurant Owner
How Does Online Culinary School Work?
Here's what the basic workflow looks like at Escoffier.
Lessons start with assigned reading and video content so students can start to learn new terminology and techniques. Students also participate in discussion boards with their fellow students where they can share ideas and ask each other questions.
Then, they attend a live virtual session online with their classmates, led by a professional Chef Instructor. The instructor provides further explanation of the reading material and demonstrates techniques to the students. Students can also watch hundreds of Escoffier's custom, step-by-step videos online for extra instruction.
Next, culinary students complete a weekly assignment based on a provided production sheet. As the students work in their own kitchens, they document their progress through photos and a written summary. They also use the Escoffier flavor wheel to assess the taste of what they made.
When they're done, the Chef Instructor reviews each student's production sheet, summary, and photos, then provides video feedback. Students receive personalized attention from their instructor with tips for improvement.
Finally, after completing all course requirements, Escoffier's Career Services staff assists students in finding their externship. This is students' opportunity to put their professional cooking skills to good use in a busy kitchen environment and gain real-world experience for their resumes.
The externship is also a great way for students to network, get a feel for the kind of work they'd like to do, and possibly find a job after graduation.
Who Does Online Culinary School Work For?
A culinary education can open the door to a variety of careers, but getting that education has to be viable. That's one of the major benefits of studying online — students can fit their classwork into their hectic schedules and complete their programs (except the externship) from their home kitchens.
Online culinary school can be a smart choice for:
Entrepreneurs
Busy parents
People who work full time
Those seeking career advancement in the industry
Students who can't travel to an in-person campus
Veterans and active duty military
Escoffier's graduate Kristin Douglas, for example, completed her program while taking care of her family and building her own catering business in northern Utah.
Shari Spooner completed the online culinary arts program while working full time. She already had a bachelor's degree, but she wanted to further her education and boost her career within the National Cattlemen's Beef Association.
When asked how she juggles it all, Shari said, "Escoffier has made it possible for me to join a class live or watch an archived session at 10:30 at night when I have had a long day. I can wake up early to get my assignments done, and I know that an instructor or fellow student is there to help me navigate the waters."
Online degrees and diplomas can also be a way for active duty military, veterans and their families to get an education and further their career. Staff Sergeant Michael Allen, a graduate of the online culinary arts program, completed his studies while keeping up with the rigorous demands of active service.
"As an active duty soldier, online school is a big way to stay consistent with education. There is a big need for culinary arts training in my career, but there is not a lot of time to accomplish this. It's doable, I'm doing it right now!"Michael Allen, Online Culinary Arts Graduate
The Essential Culinary Career Guide
The Essential Culinary Career Guide
What's your ideal culinary career: Fine dining? Your own restaurant? Pastry? Get our self-evaluation guide to find out!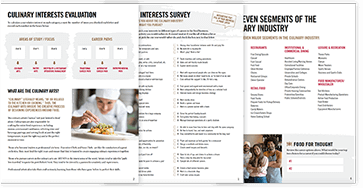 We've compiled a checklist of all of the essential questions into one handy guide: career options, culinary interest surveys, educational opportunities, and more.
YES, I want the guide!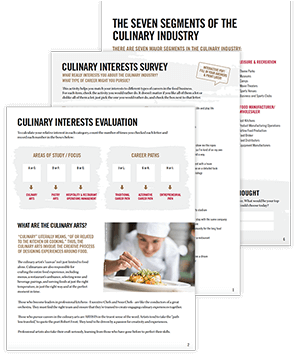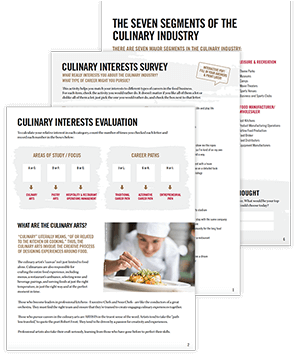 What Can Students Learn?
The cooking courses taught in Escoffier's online programs includes classic French techniques — many invented by the famous French chef Auguste Escoffier himself — as well as modern, cutting-edge innovations that Escoffier couldn't have dreamed of.
Students study kitchen basics like knife skills, food safety and sanitation — more important right now than ever. They also complete coursework in pâtisserie (pastries and bread) and world cuisines, and explore the Farm to Table® philosophy.
Then there is the business side to a culinary education. Chefs must understand purchasing and managing costs, effective communication and restaurant operations. Without a strong business foundation, the best chef in the world can't manage an effective kitchen. At Escoffier, many of the online programs include courses that explore these important business concepts.
How Can Online Culinary School Help You Achieve Your Goals?
The bottom line is that online culinary school is an excellent option, as thousands of Escoffier students would agree.1 To take the first step toward realizing your dreams, let's plan your next steps!
And don't let finances stand in the way of your career goals. Auguste Escoffier School of Culinary Arts makes financial aid, scholarships and grants available for those who qualify.
*Our Boulder, CO campus is the only accredited institution in the United States to offer both fully online diploma and degree programs with culinary classes and hands-on industry externships. We are accredited by ACCET – A Partnership for Quality®. ACCET is listed by the U.S. Department of Education as a nationally recognized accrediting agency.
**Information may not reflect every student's experience. Results and outcomes may be based on several factors, such as geographical region or previous experience.
Like this article? Here's a few more to help you learn how online culinary school works:
This article was originally published on June 3, 2020, and has since been updated.
1Boulder residential and distance-learning programs student population total – 7,600 students.
Austin campus residential student population total – 610 students.
As reported to the Integrated Postsecondary Education Data System (IPDES), for Fall 2020