Whether you consider yourself a culinary aficionado or an aspiring chef, it never hurts to brush up on a bit of the history that pertains to your craft—it can even impact your approach in the kitchen today! In this article, we'll take a deep dive into the colorful evolution of culinary education in the U.S., which includes how masterminds such as Georges Auguste Escoffier and Marie-Antoine Carême played major roles in laying down the foundation for chefs today!
You'll also explore how the title of "chef" evolved into a well-respected profession through the introduction of an apprenticeship and the emergence of culinary schools. So if you're ready to grasp the most important milestones in American culinary arts history, let's jump in!
The 19th Century: Recognition of Culinary Arts as a Discipline
To sink your teeth into the early beginnings of culinary arts education in the U.S., we have to start with a little time traveling back to the 1800s—specifically in Europe. This was an era when a few of those culinary pioneers we mentioned began to push boundaries and transform culinary arts into a well-respected craft.
During this time specifically, "haute cuisine" which translates to "high cuisine," was introduced by Marie-Antoine Carême. This type of cuisine was a stark contrast to medieval French cooking that put emphasis on abundance—boasting grand, multi-course meals loaded with a variety of fresh meats, fruits, nuts, etc. To put it in simple terms, haute cuisine zeroed in on quality, modernization, and precision—it was a skilled art form that required special training.
So eventually, the namesake of our school, Georges Auguste Escoffier, swooped in to introduce haute cuisine to the modern world. Simultaneously, he also offered more structure in the kitchen, by engineering kitchen hierarchy, better known as brigade de cuisine. The idea revolved around the fact that each chef could specialize in specific kitchen tasks at a particular station—a solution to streamline operations, enhance efficiency, and bolster quality control.
Needless to say, the invention of this system, coupled with the introduction of higher-quality cuisine, put the craft of culinary arts on the map…naturally provoking the U.S. to adopt its successes. So how did America begin to hone in on these culinary innovations?
"Auguste Escoffier–chef of kings, king of chefs–left us his vision. Every chef in the world follows his techniques and the system he set up for us."*
Chef Cesar Herrera, Escoffier Culinary Arts Chef Instructor
1879: The First U.S. Culinary School in Boston
Around the same time, the Boston Cooking School was founded by Fannie Farmer in 1879—becoming the very first school in the U.S. committed to teaching students the art of cooking food. This school specifically helped women make an income as cooking teachers when it was quite difficult to find employment. Farmer also standardized cooking practices and recipes from a scientific approach and laid the foundation for the culinary arts schools that would ensue.
The First American Cookbook Makes its Debut
In 1896, Farmer published the first American cookbook, titled The Boston Cooking School Cookbook. Farmer enclosed over 1,000 easy-to-follow recipes with precise measurements, as well as details on nutrition, cooking and sanitation techniques, and household management.
Eventually, Farmer's best-selling book became a must-have blueprint for culinarians and is still considered an essential reference for any at-home chef. The book also brought many of the lessons that the Boston Cooking School was teaching to their students into the home of thousands of Americans.
The Early 20th Century: Modern Shifts in Culinary Education
The start of the first American culinary school was a catalyst for several modern shifts in culinary education to follow. Needless to say, the 1900s was a buzzing era for thought-leading culinarians!
1911: Instituting the American Culinary Apprenticeship
The notion of a culinary "apprenticeship" was already widely received in Europe in the 1800s. An apprentice was viewed as a student of the craft—often working multiple areas of restaurant or hotel kitchens. It wasn't until later that Americans finally adopted this educational model, after witnessing the latest victories in culinary arts.
The U.S. government instituted many of the same European apprenticeship guidelines, requiring 6,000 hours of on-the-job training to be classified as a chef. We'll explore how this model has greatly evolved over the years, but during this time, an apprenticeship was a direct pathway to becoming a chef.
The Inception of the American Culinary Federation
Many were brainstorming ways to expand on European cooking ideals…and one way to do this was to unify those who were pioneering industry growth. Eventually, in 1929, the American Culinary Federation was formed in New York, a coalition of professionals composed of three chefs' organizations—the Vatel Club, Société Culinaire Philanthropique, and the Chefs de Cuisine Association of America. ACF united under one common goal—to be a culinary change agent while "promoting the professional image of American chefs worldwide through education of culinarians at all levels."
The Growing Demand for Skilled Cooks
A few years later, in 1931, ACF developed comprehensive training and standards for chefs, which serendipitously aligned with the dire need for more skilled cooks. How? Around 1945, when World War ll ended, many families wanted to dine out instead of resorting to bland meatloaf or vegetable pie made in the household kitchens. As you might imagine, with the booming growth of eateries in the U.S., there was a sense of urgency to hire educated cooks who could quickly and efficiently serve the masses. So in 1946, the shift from the ordinary cooking school to professional culinary school took place, and concurrently, many returning soldiers opted to enroll in hopes to become a chef.
Education through TV and Radio Cooking Classes
After WWII, there was also a demand to help spread culinary arts education through broadcast television and radio shows. In the 1940s, James Beard hosted the first national cooking show on NBC called "I Love to Eat" which proved to be an American household favorite. And in the 1960s, cooking legend Julia Child brought French cooking practices to America via radio and television, after the success of her cookbook Mastering the Art of French Cooking. According to WGBH, her TV show, The French Chef, made Julia Child "public television's first and most enduring star." These shows and the many others helped to widely educate Americans and popularize culinary arts.
The 1970s: ACF Turning the Title of "Chef" Into a Viable Profession
Also around this time, ACF was on a mission to transform how the public viewed a chef. So instead of it being under the service sector, ACF shouted from the rooftops that this was, indeed, a viable profession. Similar to the proliferation of restaurants, the sheer interest in culinary school skyrocketed, triggering another shift in culinary education.
Later on in the 1970s, ACF went on to officially launch the National Standards of Culinary Apprentice programs, which was "a set of national guidelines for apprenticeship standards that were originally registered with the U.S. Department of Labor in 1979 and are continually updated to remain pertinent."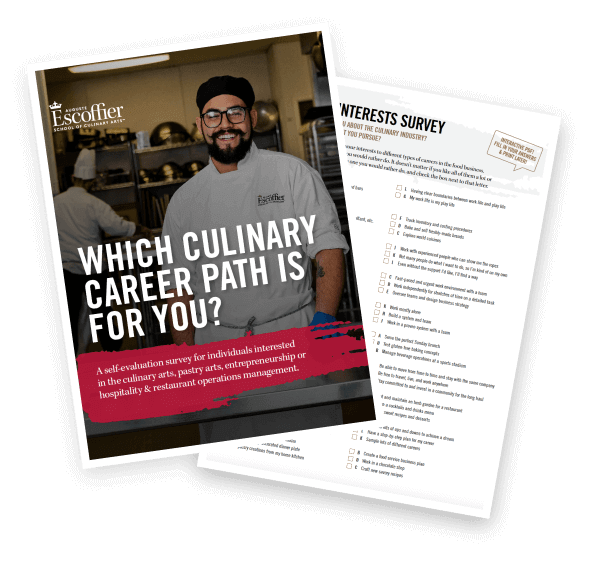 Take the Culinary Career Survey
We've compiled a checklist of all of the essential questions into one handy tool: career options, culinary interest surveys, educational opportunities, and more.
The 20th Century: The Emergence of Auguste Escoffier School of Culinary Arts
Once America experienced the declaration of the chef as a financially-feasible profession, culinary institutes started to emerge across the country—offering aspiring chefs an extensive education. Auguste Escoffier School of Culinary Arts, formerly known as the Culinary Academy of Austin, was founded in 1997. Then in 2010, Triumph Higher Education Group, LLC acquired the school. The ultimate impetus for launching Escoffier was to honor the great legacy our namesake left behind over 100 years ago, with a mission to "disrupt" the conventional learning model.
So how was this accomplished exactly?
Expansive Culinary Programs for Students
Escoffier Founder Jack Larson envisioned a culinary institute that could provide a uniquely-immersive educational experience in the culinary arts by giving students an option to specialize in a discipline. Escoffier currently offers eleven programs across six different disciplines, including Culinary Arts, Baking & Pastry, Food Entrepreneurship, Plant-Based, Holistic Nutrition and Wellness, and Hospitality & Restaurant Operations Management.
Although each program takes a deep dive into a curriculum specific to that niche, every student covers the foundation of culinary arts, which starts with Escoffier's take on French cuisine. This includes learning the ins and outs of the brigade de cuisine system, mise en place, French knife cuts, and so much more. Depending on the program, students can also dive into contemporary curricula such as menu design and management, food blogging, and the Farm to Table® Experience—focusing on intentionally using local, seasonal ingredients for dishes, while exploring progressive, regenerative farming practices.
Educational Accessibility Through Technology
As you can imagine, with the technological advances that have transpired over the past decade, the conventional "format" of in-person culinary school has greatly evolved—making education more accessible than ever before. At Escoffier, students can opt to fulfill their curriculum 100% online with a hands-on industry externship. This could prove to be a flexible option for busy parents, veterans/active military, or full-time workers.
For example, Pro Food Stylist Lisa Spychala earned a diploma in Culinary Arts through Escoffier's online program, while continuing to work full-time.* She mentioned the time management component of the program "made her a better worker," in the field, and at the end, she discovered a profound "level of self-assurance."*
"As I was doing it, I thought, 'This [online program] actually makes a lot of sense.' There is a lot you can tell from the photos about what you're doing right and what you're doing wrong," said Lisa. "No, Chef doesn't know how much salt you put in. They can tell by the consistency of your rice from the pictures. And it is about you learning and self-critiquing."*
Through numerous live sessions, hands-on sessions led by Chef Instructors, and video instruction, aspiring culinarians can pursue their dreams conveniently in their own kitchens!
The More "Modernized" Culinary Apprenticeship
Earlier, we touched on how the traditional American culinary apprenticeship required almost 6,000 hours of on-the-job training! Luckily since those days, that model has transformed significantly, requiring fewer working hours, while still being just as effective.
Today, many culinary students embark on a hands-on culinary externship while completing their education—which is a more short-term, niche-specific experience for students. At Escoffier, every student must complete one to two industry externships in their discipline as a requirement for graduation. These placements could lead to new job opportunities and long-lasting connections upon graduation!
On top of that, culinary externships can be an ideal time to refine one's subset of skills, which could include food presentation, recipe development, kitchen management, and more. Additionally, students can get support on externship placement through Escoffier's Career Services team.
"Escoffier is my dream come true, I am a mother of three boys, a military wife for 24 years, and have been through a lot. It was a blessing to have started this journey during a time when the entire world shut down! It kept me motivated, focused, and proud of my achievements. I have learned so much that I could not even imagine. I felt capable outside the box, during my externship I had the proof! I was asked to fulfill tasks that made me realize that I did have confidence and knowledge thanks to the Escoffier program and its amazing Chefs. They have taught me so much from different angles. From production to ethics, to sustainability, resources, and much, much more! I can't wait to pick up my already existing private chef business "La mia Cucina" and make Escoffier proud!"*
Susanna Halbrook, Escoffier Online Culinary Arts Graduate
The Next Wave of Culinary Arts History
From its humble beginnings rooted in apprenticeships to the dawning of American culinary institutions, the journey of culinary arts education reflects an undeniable passion for craft and innovation. Based on history, the next wave of culinary arts looks particularly bright, especially for those aspiring chefs who continue to seek education and put their big ideas into action.
To take the next step toward your career goals, check out Escoffier's online programs and explore financial aid options for those who apply and qualify!
Want to learn more about culinary school? Try these articles next:
This article was originally published on October 3, 2019, and has since been updated.
*Information may not reflect every student's experience. Results and outcomes may be based on several factors, such as geographical region or previous experience.